Includes phones Galaxy S10 leading this year's a different set of features provided by the Samsung for the first time, start from the exterior design through to the internal specifications and different, especially the feature of reverse charging wireless .
How to use Reverse Charging Wireless on the Galaxy S10
As we all know supports all of the Galaxy S10e and Galaxy S10 and Galaxy S10+ wireless charging reverse -or as you call it, the Samsung PowerShare – but how to operate this technology?
How to use reverse charging wireless Galaxy S10 :
Before the start of the company it should be noted that this method cannot be depended upon for the company mainly, but it is suitable only in simple cases in which a charging device perfectly.
Works wireless PowerShare better if you ship the smallest things – like a smart watch or a box of Galaxy Buds, but certainly can work with phones, too.
First: activated PowerShare wireless
You can find a selection Reverse Charging Wireless through the list of notifications and shortcuts under the name "Wireless PowerShare" as it appears in the picture.
If you don't stop shipping wireless reverse "Wireless PowerShare" clear in the notification panel you can click on the three dots at the top.
Open the arrange shortcuts and dragging the icon Wireless PowerShare and put it where you want it in the notification list until you reach it easily, as you can see in the pictures.
Second: flip the phone over Galaxy S10 and use it as a wireless
The next step is simple, turn over the device Galaxy S10 face down, and then put the device that you want to sharpen click it, you will believe S10 shaking slightly when he discovers the other device and it starts charging immediately.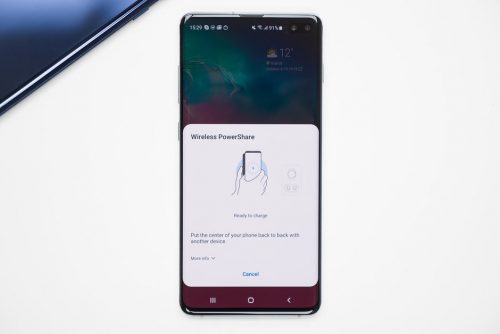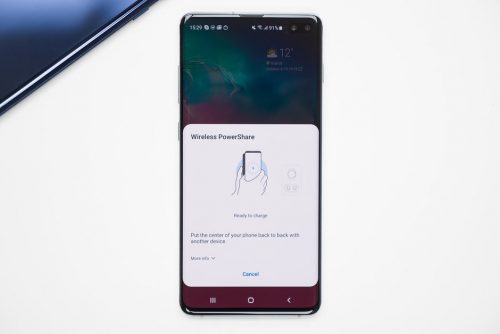 If you are a developer and publish your apps via the news app to reach for a large segment of Arab users to reason across the following mail: info@arabapps.org will your app soon in the list of news apps if level befitting the user.
Do you want more apps and news?
Apps and news apps for Apple, Android and not available on our pages via social networks, follow us on our various Facebook and Twitter , and Google Plus , and Youtube , and Instagram , The Telegram