After the announcement of Samsung about the phone, its flagship Galaxy S10 and the declaration of other companies for its phones in various conference MWC 2019 formed the eye to detect Huawei P30 and P30 Pro at the end of March, which refers to a big wave of leaks and rumors about the devices coming days.
Monitoring Huawei P30 Pro page:
The first news about the Huawei P30 Pro was the team of Digital Trends who had no luck in identifying the P30 Pro close-up and took the first live footage of the device flagship.
Looking at the pictures to note the presence of the name of the Vogue in reference to Huawei and they are used as an alias, as well as find the name Lica bottom of the camera modules in reference to the relationship of the Leica.
Speaking of the camera note that the number of cameras found on the back of the phone are three cameras instead of four, which is weird, relatively speaking, maybe she wanted Huawei to hide some secrets this version is the standard version, not pro.
Just like the series Galaxy S10, you'll get a family P30 the new device and the fourth contains the specification of the top of the Pro will be compatible with support for 5G.
Finally, the report says that the device Huawei P30 Pro is somewhat similar Mate 20 Pro when in the hand, but it maintains the aesthetics of the P20 Pro.
Leaked specifications of Huawei P30 and P30 Pro :
The second recording comes from my country Indonesia and Taiwan, which continue to sell devices in their markets as soon as announced.
According to the order will contain the ELE-L29 (model number Huawei P30) on the random access memory amount to 6/8 GB memory storage is 128 GB, while going VOG-L29 (P30 Pro) 8 GB RAM and storage capacity of 128/256 GB, the phones accompanied by the phone third called MAR-LX2, likely to be Huawei P30 Lite .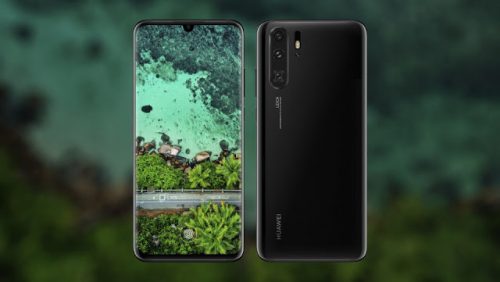 Huawei P30 Pro
Both phones come with repetitions of 4G networks, but we don't know if the Pro version will come with the preparation of 5G, as networks in each of Indonesia, Taiwan unprepared after the settings of the fifth generation.
Will be announcing two devices on 26 March in the French capital Paris, with sensor fingerprint integrated below the display screen and design of wider screen than the previous generation.
If you are a developer and publish your apps via the news app to reach for a large segment of Arab users to reason across the following mail: info@arabapps.org will your app soon in the list of news apps if level befitting the user.
Do you want more apps and news?
Apps and news apps for Apple, Android and not available on our pages via social networks, follow us on our various Facebook andTwitter , and Google Plus , andYoutube , and Instagram , The Telegram