Is the Google Play Store is the primary source for users of Android to download different applications and games, now I got the Google Play Store app to update characteristic tells you the apps and programs that you have installed on the phone and did not use it for a while.
Where an alert appears in your notifications to notify you of the existence of apps not installed, it also says that you can be removed to clean the internal storage of the device.
When you click on it takes you to the Google Play Store, specifically to the list of applications that you haven't used for a while, you will need all application the description includes the last time you opened it, you can select an app (or multiple apps) and uninstall it.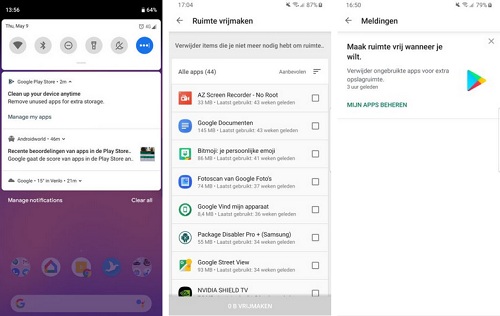 The Google Play Store will tell you now which apps you haven't used a while ago
This feature appeared first in the Netherlands, where he was spotted by Android World, and we don't know if this feature is now available in other places, as it is not clear how long the app needs the gas level to get these alerts.
Join us in the comments if anyone has this feature recently..
If you are a developer and publish your apps via the news app to reach for a large segment of Arab users to reason across the following mail: info@arabapps.org will your app soon in the list of news apps if level befitting the user.
Do you want more apps and news?
Apps and news apps for Apple, Android and not available on our pages via social networks, follow us on our various Facebook and Twitter , and Google Plus , and Youtube , and Instagram , The Telegram